The President of the Republic of Ghana, His Excellency Nana Addo Dankwa Akufo-Addo has been captured in the video sitting on the same table with a beautiful white lady. Information circulating on social media indicates he was recently spotted in a restaurant at Osu with this white lady. Some Ghanaians on social media after looking at the posture they were seated said that this is probably a date with the white lady.
Watching the video carefully, both President Nana Addo Dankwa Akufo-Addo and the white lady were holding menu books. It appears they were waiting for the waiters to come and serve them as President Akufo-Addo was reacting like someone waiting for something to be given to him.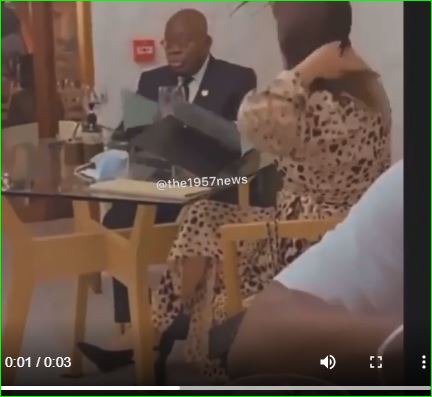 But looking at this video well, it could be that President scheduled a meeting with the white lady at the restaurant. The fact that you see two people at the same table at a restaurant doesn't mean that they are on a relationship date like how some Ghanaians are thinking after watching this video. Managers and Chief Executive Officers (CEOs) of companies sometimes schedule meeting with their female clients at the restaurant, hostels and guest house. This doesn't give an indication that they are on a relationship date.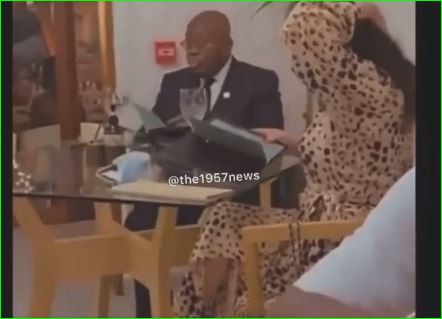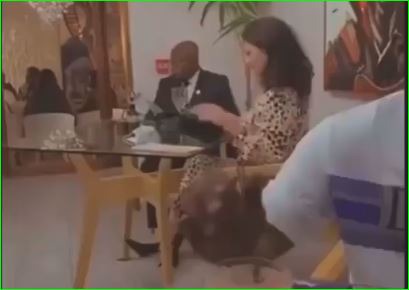 In view of this, the thinking of some Ghanaians that President Nana Addo Dankwa Akufo-Addo is on a date with this white lady could be totally wrong. If he even had wanted to go on date with another lady aside from his wife, do you think he will choose an open public place like this? Check out some of the reactions from some Ghanaians who came across this video: