Men prefer women who are not in a relationship, and it is unusual to find a man who asks for a lady's phone number while her boyfriend is there. Some men will turn the whole event into a fight if you muster this type of bravery and show interest in their partner in a public place. But the young man in your picture mustered the courage to request the mobile number of a lady who was enjoying a meal with her boyfriend at KFC, Accra.
Watching the video carefully, this young man who has dyed his hair grey was sitting afar watching this couple as they were enjoying their meal. One cannot tell what came over him, he just stood from his seat and walked straight to this couple. He greeted them, stretched forth his phone and ask the lady to give her mobile number to him. The lady was captured laughing as she looks straight into his boyfriend's eyes.
The boyfriend of the lady got annoyed and ask the man to walk away but this young man was still insisting on getting the lady's phone number. This propelled the lady's boyfriend to stand up and push the guy away but he was still at the request of the lady's mobile number. The guy had wanted to collect the young man's mobile phone and threw it away but it appears he was holding tight onto it.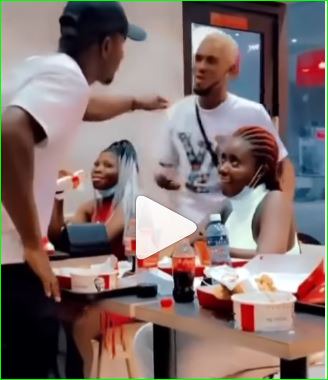 The ladies who recorded this video at KFC were heard in the video laughing uncontrollably as this event was taking place. One of the ladies said that "In 2022, people will be using by force means to snatch people's girlfriends and boyfriends".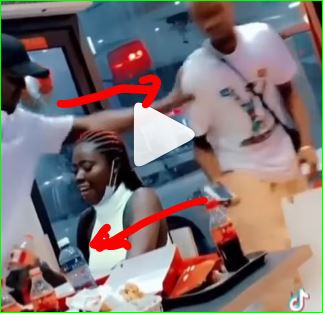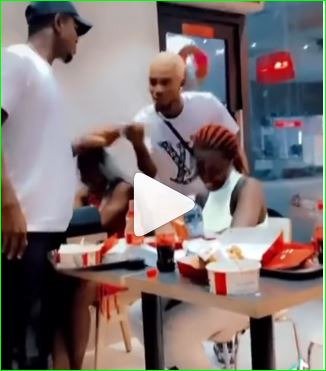 You can also watch the video through the link below: